Hi there!
Our theme is one bow, button and flower :)
And I'm so happy because this time we're working with
Meljen's Designs
cute image.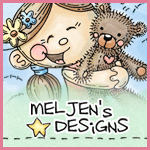 This little lady is called
Steampunk Girl
. I really enjoy coloured her, and the first time I saw her, I instanly think about gothic and dark colours.
And here my card:
Decided to use purple as her hair.
I use black and white plus purple; then add gold as accent.
And here's the detail:
My button is this cute owl. And my flower is that Doohickey doily flower.
I embossed white and black paper, and cut them shaped banner.
Added clock die cut here, coloured dark purple, but nearly seen as black :)
And also corner and pearls! :)
And here's my bow; with big rhinestone on top of it.
I hope you enjoy this card as much as I do :)
Would like to enter this for:
Thank you for visiting.
Would really love to see you at the challenge!! :)
xoxo,
Mikha Adriani